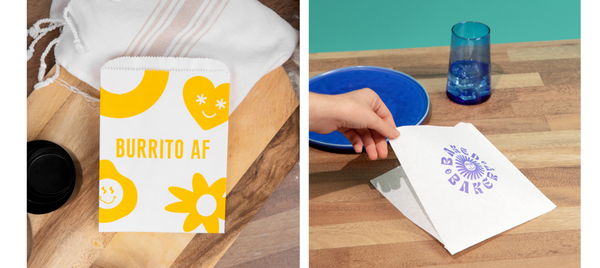 As a food and beverage business, you have many expenses which affect your profitability. Some more so than others obviously. One of your ongoing food service expenses you'll have, is food packaging. 
And even more so if you're a cafe, bakery, QSR or fast casual restaurant. Not so much if you're a fine dining restaurant though. If you don't intend on spending extra for custom branded packaging, then no need to worry about these costs. For you, you'll always pay the slightly lower non-branded 'blank' packaging cost, regardless of how your logo was designed.
For those who appreciate the slight premium you can charge customers for the same exact food, by serving it in beautifully designed packaging. Or for those who simply want their customers to experience their brand identity during their visit, then you're going to be incurring blank packaging + printing costs.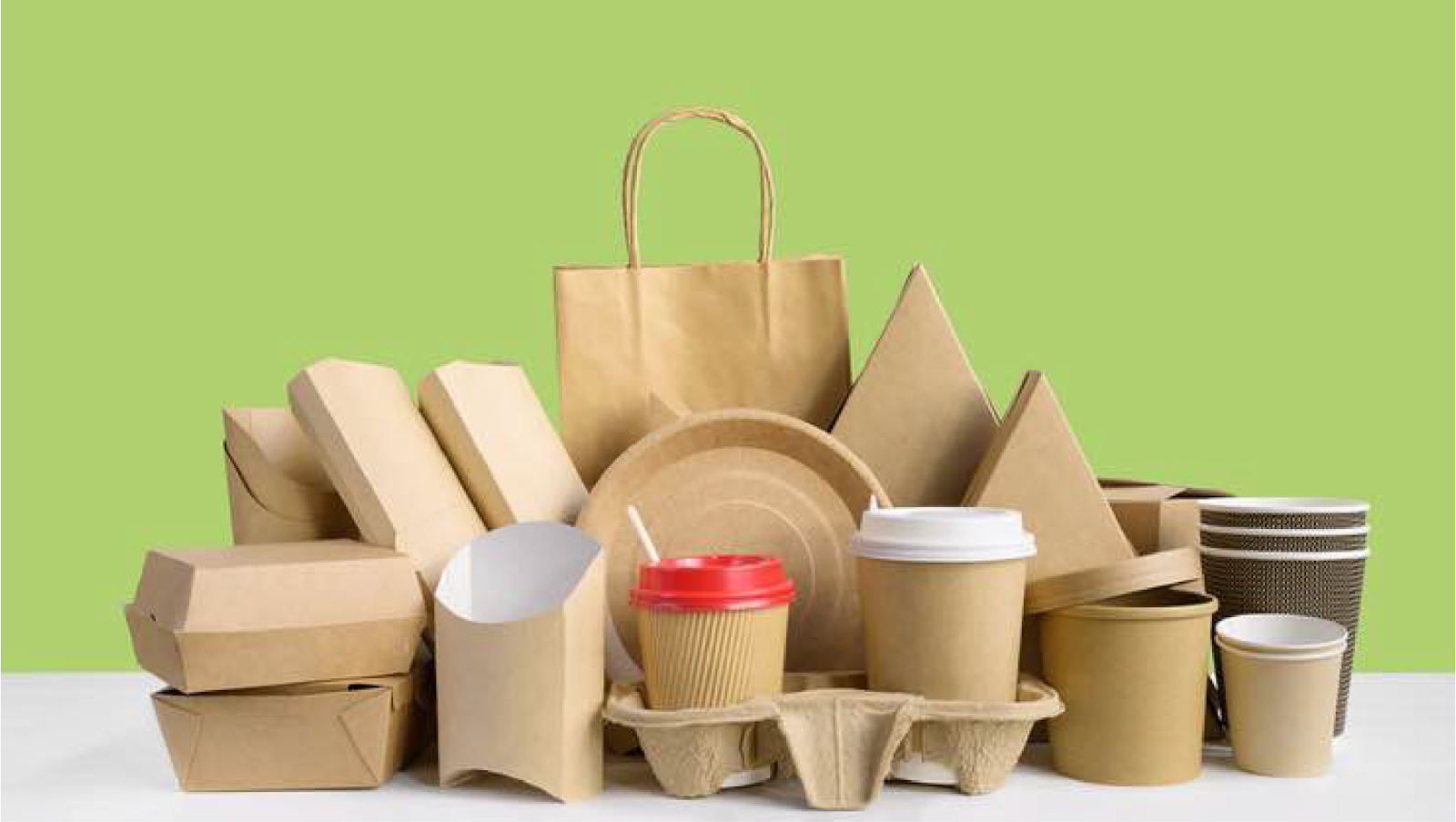 Although you can't control so much the cost of the blank packaging, you 100% have control over how much the printing will cost. This is for the simple fact that printing in one color art provides the lowest cost. You'll pay extra money for each additional print color. Any money saved here will add to your restaurant's profitability. You'll also find that some forms of packaging are only available to you in one or two color printing.
What types of packaging am I referring to? Bakery boxes, labels, takeaway bags, pastry bags, coffee cups, plastic cold cups, masking tape, t-shirts, swag, and more.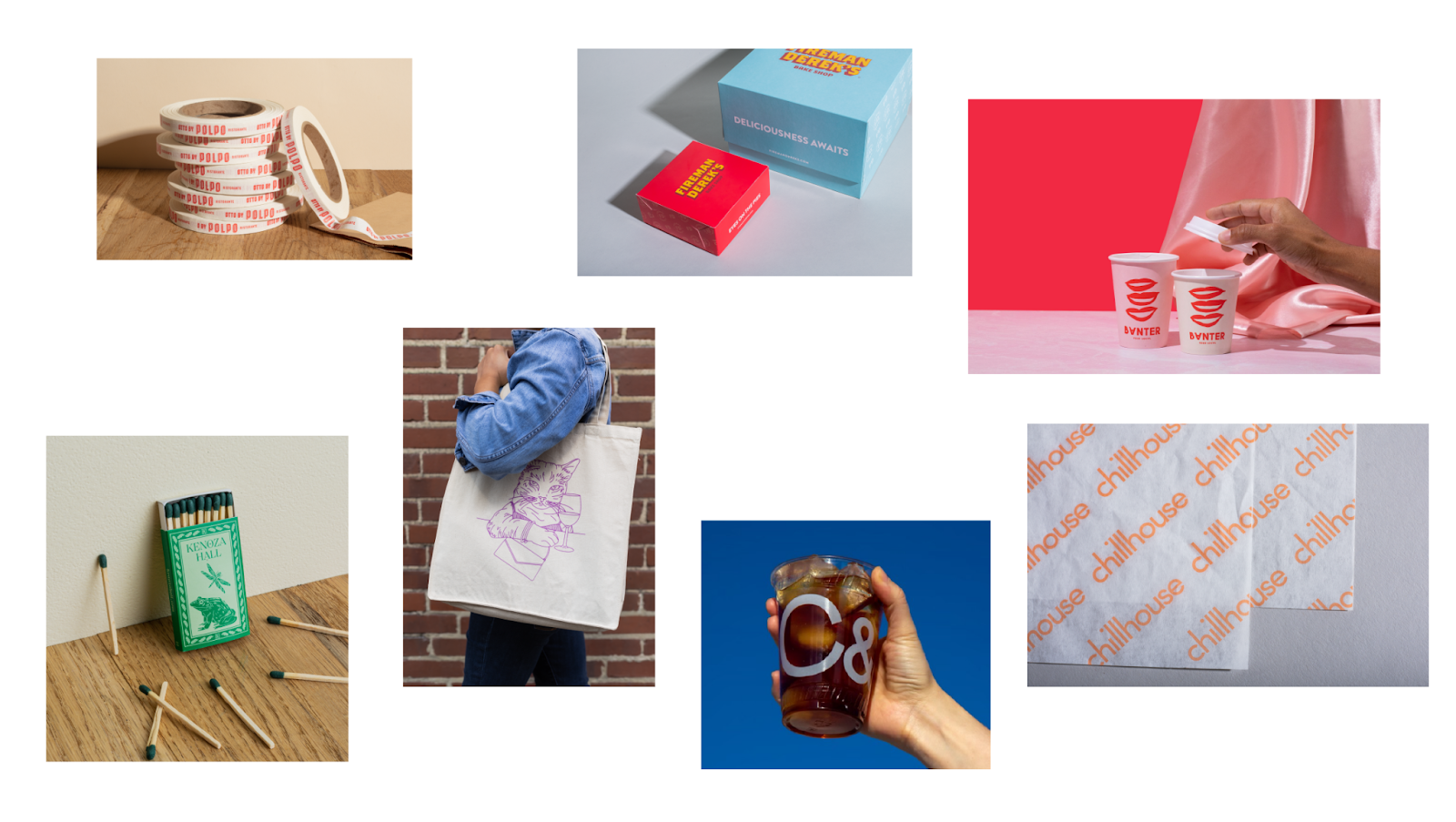 How do you make your branded packaging more expensive and difficult to source? 
Allow your designer to create a logo for your restaurant which has many unique colors. What we commonly refer to as a 'full color logo'.
You will find your packaging options limited, the order minimums (money outlay) higher, and the price per piece higher. Mind you, for the same packaging your competitors are using. Would you really want to spend more money for the same packaging? 
So what exactly is a full color logo? 
Artwork is either printed in single Pantone colors or in full color CMYK. Generally speaking, you would print in full color CMYK, if there are four or more colors in your design, as that would be cheaper than printing all those colors individually. CMYK stands for the four colors used by printers which when combined, allow you to accomplish photo like full color prints. Cyan, Magenta, Yellow and Black (K).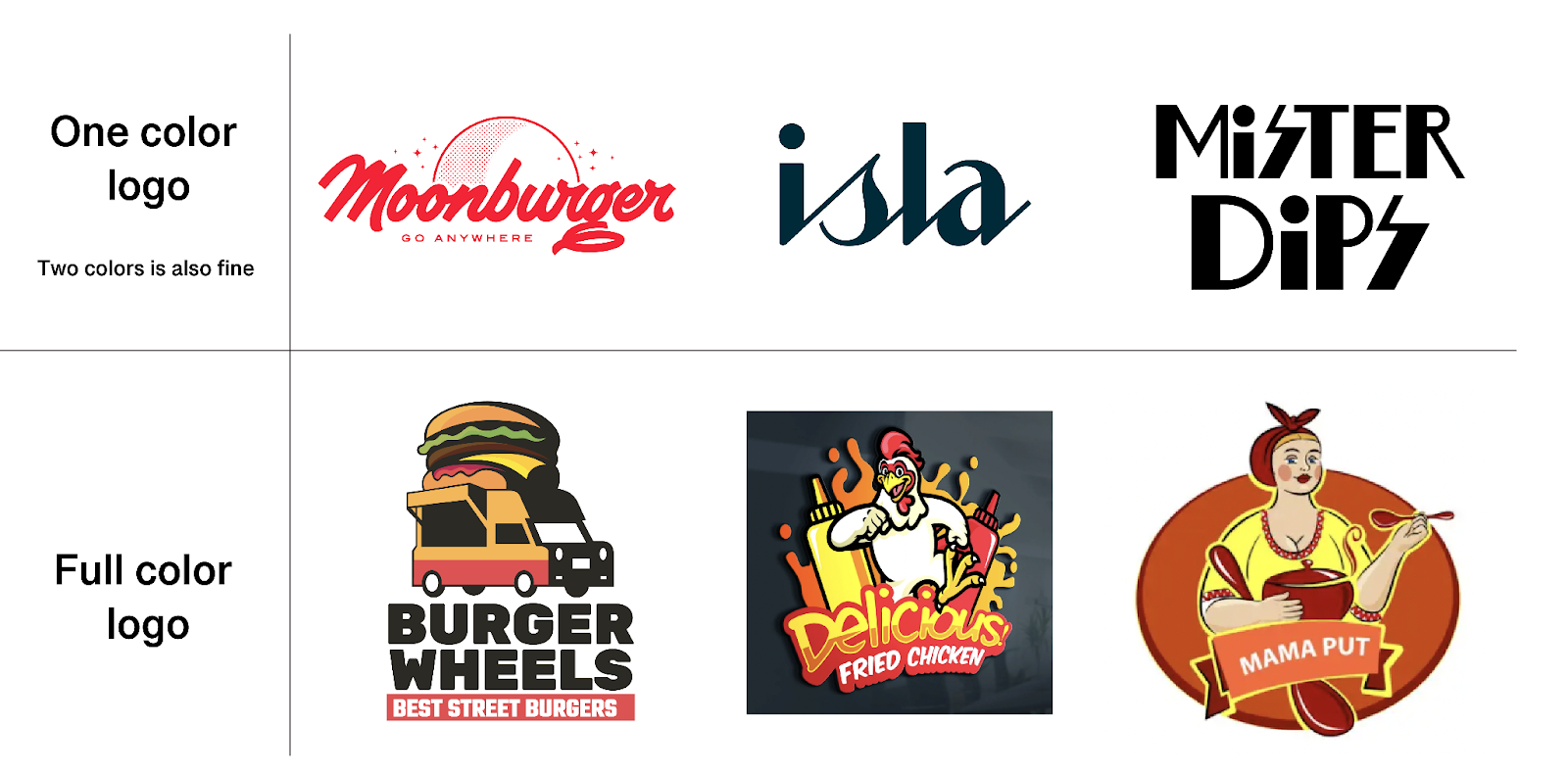 If you've had a full color logo created, and haven't yet opened your doors, I would recommend scrapping your design and recreating your branding in one or two colors. This choice will end up saving you thousands of dollars and endless headaches. Imagine doing all this research to find a printer and the perfect packaging, and then you find out, it's not available with full color printing. Then you'll need to start all over again trying to find another manufacturer or packaging type. Or you'll just end up using a full color sticker which is less ideal. Or you may find that the minimum purchase amount is twice as high and you're being asked to outlay twice the amount of money as you were hoping. 
Caveat: You can absolutely have a full color logo - so long as you also have a single color version of it. You would then have the best of both worlds, the full color design you wanted, and a way to print it, at a lower cost. 
For example: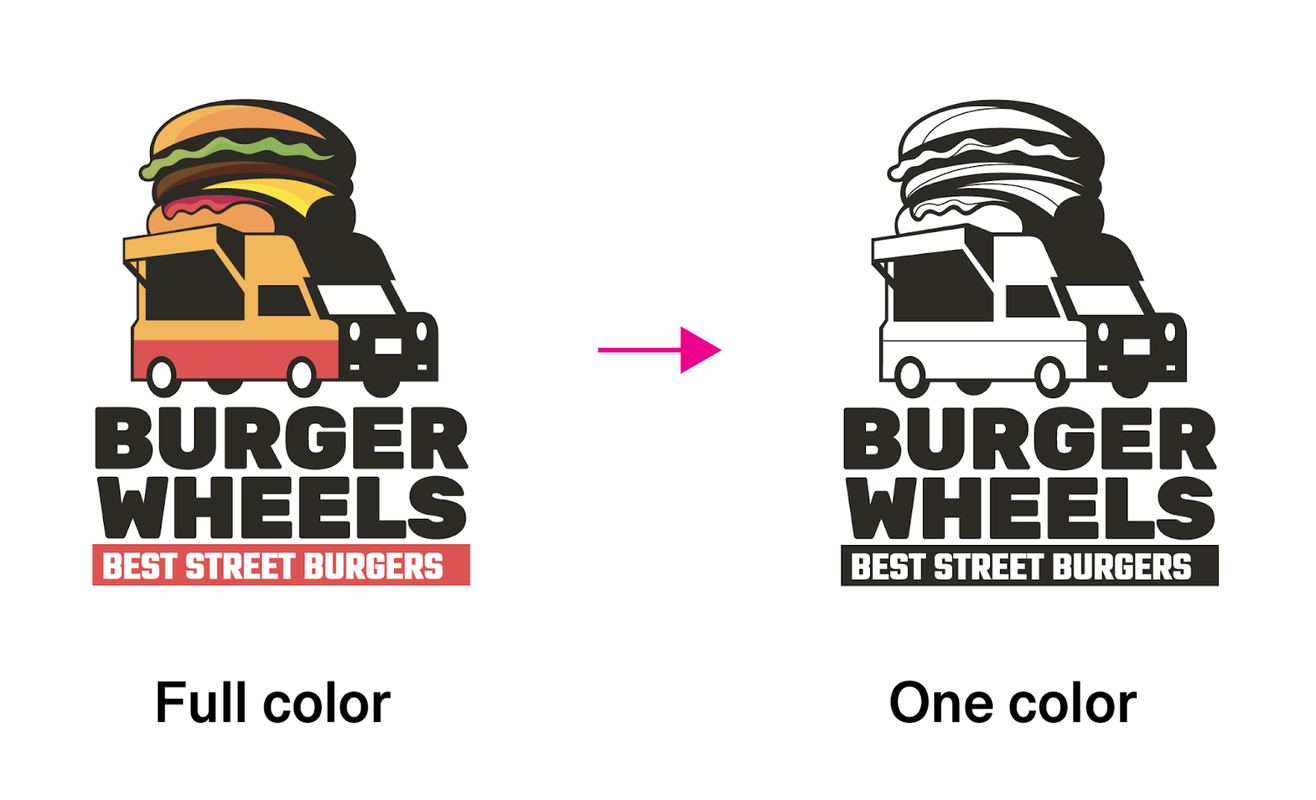 This is rare though! Most full color logos will not work well as a single color. This is because full color designs usually distinguish sections of the design by color, where if everything were a single color, you may not be able to properly distinguish one element from the other. In the example above, you can see the green lettuce and yellow cheese are kind of lost after being converted to one color.
Let's look at a few real world examples of the cost difference you'll end up paying.
T-Shirts One color logo, printed on the front 36 shirts = $234.00 + $30 setup cost
Full color logo, printed on the front  36 shirts = $304.20 + $120 setup  
Pastry Bags One color logo, printed on the front 1,000 Bags = $162 + $100 setup 
Full color logo, printed on the front 1,000 Bags: Not even available Full color minimum order quantity: 50,000 Bags 
Tray Liner Paper One color logo 20,000 sheets = $560 + $135 setup 
Full color logo 20,000 sheets = $660 + $540 setup 
Plastic Cold Cups One color logo 10,000 cups = $1,580 + $60 setup 
Full color logo 10,000 cups = $1,730 + $240 setup 
Labels One color logo 3,000 labels = $150
Full color logo 3,000 labels = $371
 If you're planning to open a food and beverage business, when creating your logo and brand identity, there's no cost difference whether your designer uses a one, two or a full color logo. Any designer can make either for the same cost. And so it's 'free' to choose one path over the other. Why not choose the path which reduces your headaches, makes more types of packaging available to you, allows for lower minimum order quantities, and makes your restaurant more profitable?